O Emmy Awards, principal prêmio da indústria televisiva que acontece em setembro, divulgou hoje os indicados do ano. Entre as novidades, está a presença da série House of Cards, produzida exclusivamente para o Netflix – serviço de streaming que usa a internet ao invés do canal de televisão.
+ Conheça os maiores recordistas da história dos Emmys
+ Saiba onde assistir ao Emmy Awards 2013
+ Confira a programação de TV
Quem conduziu a cerimônia foram os atores Aaron Paul (que concorre como ator coadjuvante pela série Breaking Bad) e Neil Patrick Harris, de How I Met Your Mother. Neil será, também, o apresentador do evento, que vai ao ar no dia 22 de setembro pelo canal Warner.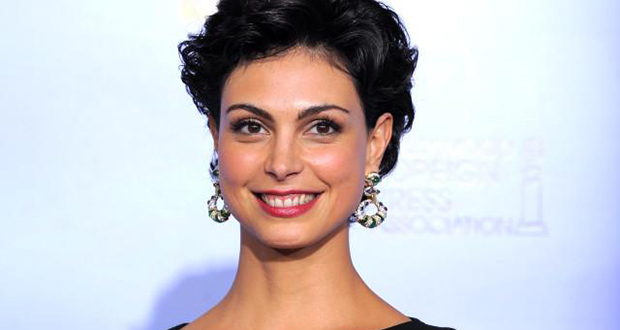 A brasileira Morena Baccarin, de Homeland, concorre como coadjuvante em série dramática, e alguns nomes já conhecidos do público, como Jim Parsons (de The Big Bang Theory) e Jon Hamm (Mad Men) continuam entre os favoritos em suas categorias.
Ao todo, serão premiadas 77 categorias, contemplando séries, minisséries, filmes, especiais e programas de televisão.
Confira os principais candidatos:
Melhor ator em série dramática
Breaking Bad - Bryan Cranston
Downton Abbey - Hugh Bonneville
Homeland - Damian Lewis
House Of Cards - Kevin Spacey
Mad Men - Jon Hamm
The Newsroom - Jeff Daniels
Melhor atriz em série dramática
Bates Motel - Vera Farmiga
Downton Abbey - Michelle Dockery
Homeland - Claire Danes
House Of Cards Robin Wright
Mad Men - Elisabeth Moss
Nashville - Connie Britton
Scandal - Kerry Washington
Melhor ator em minissérie ou filme
Behind The Candelabra - Michael Douglas
Behind The Candelabra - Matt Damon
The Girl - Toby Jones
Parade's End - Benedict Cumberbatch
Phil Spector - Al Pacino
Melhor atriz em minissérie ou filme
American Horror Story: Asylum - Jessica Lange
The Big C: Hereafter - Laura Linney
Phil Spector - Helen Mirren
Political Animals - Sigourney Weaver
Top Of The Lake - Elisabeth Moss
Melhor ator em série cômica
Arrested Development • Netflix - Jason Bateman
The Big Bang Theory - Jim Parsons
Episodes - Matt LeBlanc
House Of Lies - Don Cheadle
Louie - Louis C.K.
30 Rock - Alec Baldwin
Melhor atriz em série cômica
Enlightened - Laura Dern
Girls - Lena Dunham
Nurse Jackie - Edie Falco
Parks And Recreation - Amy Poehler
30 Rock - Tina Fey
Veep - Julia Louis-Dreyfus
Melhor minissérie ou filme
American Horror Story: Asylum
Behind The Candelabra
The Bible
Phil Spector
Political Animals
Top Of The Lake
Melhor série cômica
The Big Bang Theory
Girls
Louie
Modern Family
30 Rock
Veep
Melhor série dramática
Breaking Bad
Downton Abbey
Game Of Thrones
Homeland
House Of Cards
Mad Men
Melhor ator coadjuvante em série dramática
Boardwalk Empire - Bobby Cannavale
Breaking Bad - Jonathan Banks
Breaking Bad - Aaron Paul
Downton Abbey - Jim Carter
Game Of Thrones - Peter Dinklage
Homeland - Mandy Patinkin
Melhor atriz coadjuvante em série dramática
Breaking Bad - Anna Gunn
Downton Abbey - Maggie Smith
Game Of Thrones - Emilia Clarke
The Good Wife - Christine Baranski
Homeland - Morena Baccarin
Mad Men - Christina Hendricks
Melhor ator convidado em série dramática
The Good Wife - Nathan Lane
The Good Wife - Michael J. Fox
Homeland - Rupert Friend
Mad Men - Robert Morse
Mad Men - Harry Hamlin
Scandal - Dan Bucatinsky
Melhor atriz convidada em série dramática
The Americans - Margo Martindale
Game Of Thrones - Diana Rigg
The Good Wife - Carrie Preston
Mad Men - Linda Cardellini
The Newsroom - Jane Fonda
Shameless - Joan Cusack
Melhor roteirista de série dramática
Breaking Bad - George Mastras
Breaking Bad - Thomas Schnauz
Downton Abbey - Julian Fellowes
Game Of Thrones - David Benioff, D.B. Weiss
Homeland - Henry Bromell
Melhor direção em série dramática
Boardwalk Empire - Tim Van Patten
Breaking Bad - Michelle MacLaren
Downton Abbey - Jeremy Webb
Homeland - Lesli Linka Glatter
House Of Cards - David Fincher
Melhor ator coadjuvante em série cômica
Girls - Adam Driver
Modern Family - Jesse Tyler Ferguson
Modern Family - Ed O'Neill
Modern Family - Ty Burrell
Saturday Night Live - Bill Hader
Veep - Tony Hale
Melhor atriz coadjuvante em série cômica
The Big Bang Theory - Mayim Bialik
Glee - Jane Lynch
Modern Family - Sofia Vergara
Modern Family - Julie Bowen
Nurse Jackie- Merritt Wever
30 Rock - Jane Krakowski
Veep - Anna Chlumsky
Melhor ator convidado em série cômica
The Big Bang Theory - Bob Newhart
Modern Family - Nathan Lane
Nurse Jackie - Bobby Cannavale
Saturday Night Live - Louis C.K.
Saturday Night Live - Justin Timberlake
30 Rock - Will Forte
Melhor atriz em série de comédia
Enlightened - Molly Shannon
Glee - Dot-Marie Jones
Louie - Melissa Leo
Saturday Night Live - Melissa McCarthy
Saturday Night Live - Kristen Wiig
30 Rock - Elaine Stritch
Melhor roteirista de série cômica
Episodes - David Crane, Jeffrey Klarik
Louie - Louis C.K., Pamela Adlon
The Office - Greg Daniels
30 Rock - Jack Burditt, Robert Carlock
30 Rock - Tina Fey, Tracey Wigfield
Melhor direção em série cômica
Girls - Lena Dunham
Glee - Paris Barclay
Louie - Louis C.K.
Modern Family - Gail Mancuso
30 Rock - Beth McCarthy-Miller
Melhor ator coadjuvante em minissérie ou filme
American Horror Story: Asylum - James Cromwell
American Horror Story: Asylum - Zachary Quinto
Behind The Candelabra - Scott Bakula
The Big C: Hereafter - John Benjamin Hickey
Top Of The Lake - Peter Mullan
Melhor atriz coadjuvante em minissérie ou filme
American Horror Story: Asylum - Sarah Paulson
The Girl - Imelda Staunton
Political Animals - Ellen Burstyn
Restless - Charlotte Rampling
Steel Magnolias - Alfre Woodard
Melhor roteirista em minissérie, filme ou especial
Behind The Candelabra - Richard LaGravenese
The Hour - Abi Morgan
Parade's End - Tom Stoppard
Phil Spector - David Mamet
Top Of The Lake - Jane Campion, Gerard Lee
Melhor direção em minissérie, filme ou especial
Behind The Candelabra - Steven Soderbergh
The Girl - Julian Jarrold
Phil Spector - David Mamet
Ring Of Fire - Allison Anders
Top Of The Lake - Jane Campion, Garth Davis
Melhor programa infantil
Good Luck Charlie
iCarly
Nick News With Linda Ellerbee – Forgotten But Not Gone: Kids, HIV & AIDS
The Weight Of The Nation For Kids: Quiz Ed!
A YoungArts Masterclass
Melhor série de documentário ou não-ficção
The Abolitionists (American Experience)
American Masters
The Men Who Built America
Through The Wormhole With Morgan Freeman
Vice
Melhor programa de animação
Bob's Burgers
Kung Fu Panda: Legends Of Awesomeness: Enter The Dragon
Regular Show: The Christmas Special
The Simpsons • Treehouse Of Horror XXIII
South Park • Raising The Bar
Melhor dublagem
An Apology To Elephants - Lily Tomlin
Family Guy - Seth MacFarlane
Family Guy - Alex Borstein
The Looney Tunes Show - Bob Bergen
Robot Chicken - Sam Elliott
Robot Chicken DC Comics Special - Seth Green
Melhor commercial
The Chase • Grey Poupon
Inspired • Canon
Jess Time • Google Chrome
Jogger • Nike
Melhor figurino em série
Boardwalk Empire
The Borgias
Downton Abbey
Game Of Thrones
Once Upon A Time
Melhor figurino em minissérie, filme ou especial
American Horror Story: Asylum
Behind The Candelabra
The Girl
Killing Lincoln
Parade's End
Phil Spector
Melhor canção original e letra
Nashville: Nothing In This World Will Ever Break My Heart Again
The Neighbors: More Or Less The Kind Of Thing You May Or May Not Possibly See On Broadway
Smash: Hang The Moon
Smash: I Hear Your Voice In A Dream
30 Rock: Rural Juror
66th Annual Tony Awards: If I Had Time
Melhor canção –tema
The Americans
Copper
Da Vinci's Demons
Elementary
Hemlock Grove
House Of Cards
Melhores efeitos especiais
Battlestar Galactica: Blood & Chrome
Defiance
Falling Skies
Game Of Thrones
Hemlock Grove
Last Resort